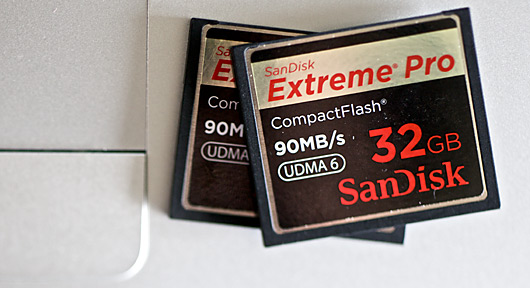 SanDisk have just outed a new range of Compact Flash memory cards aimed a pro-photographers, the SanDisk Extreme Pro series, promising capacities ranging from 16GB to 64GB and read/write speeds of 90MB/s. SlashGear's old friend Chase Jarvis has been shooting the campaign, and you can see his preliminary rapid-fire footage after the cut.

"I don't know much about speed tests and all that technical mumbo jumbo–that's best suited for labs in Silicon Valley and press releases, but what I do know is that I never waited on these cards, and I shot 25-frame RAW file sequences all day without running out of storage" Chase Jarvis

Thanks to the UDMA-6 bus the new Extreme Pro cards are twice as fast as SanDisk's previous range, and there's also new wear-leveling technology to prolong lifespan. Meanwhile they're each rated for use in temperatures ranging from minus 25 centigrade to plus 85 centigrade, and have an RTV silicone coating for moisture and humidity protection.

Finally they're drop-proof from up to 9ft, and have a lifetime warranty. They're set to hit the market in October 2009, with UK prices of £197 to £657 for the 16GB to 64GB versions, and US prices of $304, $518 and $812 for the 16GB, 32GB and 64GB models respectively.